Welcome Cocktail at the "Istituto Nazionale di Studi Romani"

The  Welcome Cocktail will be held on 26th of September, from 7.30 p.m. to 9 p.m., at The Istituto degli Studi Romani.
The institute has its location in the former convent of Saints Bonifacio and Alessio, at the top of the hill Aventino, one of the most impressive hills of Rome.  
The walk (about 2.7 km), that divides the Auditorium Antonianum from the Cocktail venue, shows a view of the best monuments of the Eternal city. It begins from the Colosseum, it runs along the Palatine Hill to finally reach the Circus Maximus. 
Therefore, the journey from the Conference venue to the Istituto degli Studi Romani offers a precious and unique opportunity to immerse yourself in Roman history.  
The Istituto degli Studi Romani is in Piazza dei Cavalieri di Malta, 2, 00153 Rome.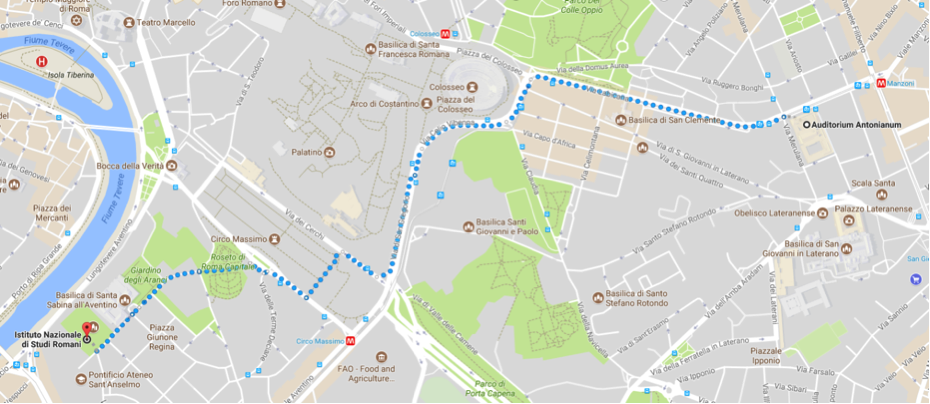 Guided Tour at "Villa dei Quintili" and Gala Dinner at "Villa Dino"
On September 28th at 6.30 pm it will be held a guided tour of Villa dei Quintili and afterwards the Gala Dinner at Villa Dino.
Villa Dino, set within one of the most important archaeological parks in the world, including Villa dei Quintili and the Seneca Mausoleum, is among the largest and most prestigious villa of Rome. Embellished with a huge park, enriched with palm, olive and lemon trees and ancient monuments, Villa Dino offers a reality out of the ordinary.
Villa dei Quintili is in Via Appia Nuova 1092, 00178 Roma
Villa Dino is in Via Appia Antica 249/B, 00178 Roma.